A Vampire at the Vet is the twenty-second episode of Season 3 of Bunnicula and one hundred and second episode of the full series overall.
Synopsis
The pets try to get out of the Vet office before they examine Bunnicula.
Plot
It begins with Chester finding out that, once every two months, Harold and Bunnicula challenge each other to eat whatever gross thing their opponent could come up with... which is usually any moldy leftovers they could find in the back of the fridge... but this time it is different as Harold challenges Bunnicula to eat the flower that was decorating the dining room table at the time. Chester, who already tried in vain to warn his friends that this contest could make them sick for weeks, points out that the flower just so happens to be a sunflower and, since it has the word "sun" in the name, it might not be a good idea for a vampire to eat it. However, being the adventurous rabbit that he is, Bunnicula ends up eating it anyway, thus triggering a severe allergic reaction with symptoms including hives, runny nose, violent sneezing fits, swelling, and a stomach ache. Bunnicula then suggests that he has to go to the vet, much to the horror of Harold (who doesn't like going to the vet after what happened "last time") and Chester (who, once again, fears the worst and thinks that any examination would expose the rabbit's secret identity as a vampire). Chester was just about to examine Bunnicula himself, when Mina spies the sick rabbit and remembers her other pets are passed due for a checkup, thus she and her dad take all three of them to the only vet clinic that is open in New Orleans at that hour of the night. While the humans were distracted by a finding things picture book, Bunnicula takes himself behind the vet's door, and Harold and Chester try in vain to stop him... especially since the bunny's swelling got worse and caused him to bounce like a beach ball into a room full of stay-in animals that use their stay like some kind of vacation home and calls the vet's office "paradise". Harold, in his horror of being there, voices his disagreement, and tells the "scary" story about what happened the last time he ever been to the veterinarian: he got a clean bill of health during his first and only checkup as a puppy, but the vet forgot to give him a treat before he went home. The animals staying overnight at the vet office thought that story was funny and asked Harold to do stand-up for them, but Chester was not amused, and the chase was on again to get Bunnicula out of there, but it was too late, as the vet found the sick rabbit and started to examine him, finding what was happening during the check-up "unusual".
Unable to take it anymore, Chester and Harold do an intervention to save their friend, only to find out the vet-- along with being able to understand them when they talk-- had ALREADY KNOWN that Bunnicula is really a vampire. In fact, along with having vampiric traits of her own, Dr. MD was a "mystical doctor" who had been tending to Bunnicula and other supernatural pets for centuries. After an apology to Bunnicula and the vet for the misunderstanding, Chester asks if their vampire friend will be alright while Harold asks if they will get treats after their checkups. The vet answers yes to both questions, but warns against ever letting Bunnicula eat sunflowers again. Once Bunnicula was given his medicine and all three pets are given treats along with clean bills of health, they are returned to Mina and her father, who were surprised at how quickly the process went without them noticing their animal friends were even gone. Happy to finally get treats, Harold's no longer afraid of the vet, saying "this one is alright", but might be reluctant to go again after a dog with tentacles took all his treats from him before he could finish them.
Characters
Major Characters
Minor Characters
Objects
Locations
Trivia
It was revealed that Harold is afraid of the Vet.
Bunnicula is allergic to Sunflowers.
Cultural References
Continuity
Gallery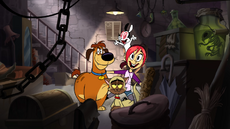 Click to view the gallery for A Vampire at the Vet.
References