Area 50 Bunn is the seventeen episode of the second season of Bunnicula and fifty-seventh episode of the full series overall.
Synopsis
A Government Agent searches Orlock Apartments for supernatural activity in order to save his job.
Plot
A government agent arrives at the Orlock to search for any supernatural activity and take it back his boss. When he finds out about Bunnicula's amazing abilities, he becomes convinced that Bunnicula must be a monster and sets off to capture him.
That night, while the Monroe's go out, Agent 51 sneaks into the building to capture Bunnicula (not noticing the other monsters in plain sight). He tries to use his various weapons to capture the vampire bunny, but Chester, Harold, and the monsters try to stop him until he breaks down crying over his pet hamster Bernie. Put off by this and feeling sorry for him, the monsters leave as Bunnicula wakes up and sees that Agent 51 wants to keep his job but cannot separate Mina from her pet as he was from his hamster, Bernie. The ghost of Bernie appears and even states he got over the sadness after he died.
Feeling compassionate, Bunnicula and the others decides to give Agent 51 something that will guarantee his job.
At his job, agent 51 gives Commander his items which include the magic box, as he is surprised to find it before leaving. Commander notices the box and opens it as the ghosts emerge from it and start floating around her. This display of supernatural scares her and causes her to give 51 back his job, to the latter's joy.
Characters
Major Characters
Minor Characters
Objects
Locations
Trivia
Practically every monster in the series makes an appearance in this episode.
A running gag, Agent 51 is oblivious to the monsters around him only seeing Bunnicula's powers.
It is ironic Mina says Bunnicula is not a vampire, when he really is.
Mina states she named Bunnicula but he already had his name, though she may be unaware of this.
Becky appears to notice the weirdness of Mina's home.
Cultural References
Continuity
Gallery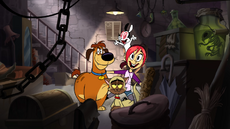 Click to view the gallery for Area 50 Bunn.
References