Arthur Monroe is a supporting character in Bunnicula. He is Mina's father. 
History
Arthur and his daughter, Mina moved to New Orleans from Middle America after Marie Monroe left Orlock Apartments to them.
In various episodes, he has served as a landlord, collected rent from Mr. Molesbee and in The Juicy Problem he works on Molesbee's plumbing.
Appearance
Arthur usually wears a nice dress shirt with the sleeves rolled back past his elbows, brown pants, and black shoes. His eyes are rarely seen and usually, his mouth his just shown. In some episodes, when his eyes are seen, his eyes are brown, but his nose and mouth are covered - As a matter of fact, Arthur's face is never entirely seen. His hair is brown.
Personality
Arthur is very bumbling, but deeply devoted and caring towards Mina. He sometimes gets lonely because he doesn't have a wife. His catchphrase is "Only in America!"
Relationships
Gallery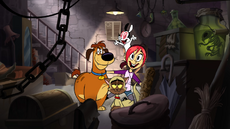 Click to view the gallery for Arthur Monroe.
Episode Appearances
Trivia
In Family Portrait, his name is Arthur is said by Becky.
It is unknown if Arthur is widowed or if the mother walked out on him and Mina. 
In the books, Arthur's name was "Robert".
Despite having an established name, the end credits list him as "Mina's Dad", similar to how in Grim & Evil, Billy's parents are credited as "Billy's Mom and Dad" instead of their names (Harold and Gladys, respectively).
He is first human to be voiced by Chris Kattan, voice of Bunnicula, main character of TV Show.
His full face is shown in Oh Brother!.
References
Community content is available under
CC-BY-SA
unless otherwise noted.