Becky is a supporting character in Bunnicula. She is one of Mina's best friends.
Appearance
Becky has short blonde hair and gray eyelids. She wears a green shirt, a silver barrette, brown pants, matching boots, and a necklace.
Personality
Becky is very sarcastic towards her friends and has a dry sense of humor, especially when it comes to Marsha's shyness and Mina's hyperactivity.
She has a slightly disturbing interest in gnomes.
Unlike Mina, Becky is a bit more perceptive as she appears to notice the unnatural around the apartment building as seen when she spoke to Agent 51.
Relationships
Mina Monroe
Becky and Mina are best friends. Becky often comes to Mina's house to play and do homework. Mina is very devoted to their friendship and will always try to fix something when the two have had a fight.
Marsha
Becky and Mina usually pick on Marsha because of her shy, cowardly nature, but the three of them are still best friends for life.
Scott Dingleman
When Mina and Becky both had a crush on Scott, Becky got irritated when Scott seemed to be interested in Mina instead of her. A few days later, Mina called Becky to apologize, but luckily, Becky found a new crush and was over Scott. For the rest of the show, Scott and Becky remain friends.
Gallery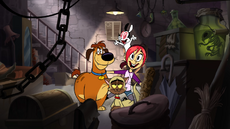 Click to view the gallery for Becky.
Episode Appearances
Trivia
She had been over Scott Dingleman for two days, prior to Mina's nightmares in Dreamcatcher.
She has a new crush named Tony Salami and has made wearable shrines with salami just like how Helga G. Pataki from Hey Arnold! makes numerous shrines of Arnold.
In Uninvited, it is revealed that she has liking to Gnomes.
According to Jessica Borutski, she is around same age as Mina.
She look familiar to Kimmy from Toaster Head created by Jessica Borutski.
References