Blueberry Blues is an thirty-ninth episode of the second season of Bunnicula and seventy-ninth episode of the full series overall.
Synopsis
Bunnicula becomes depressed after he sucks a blueberry dry.
Plot
Bunnicula is trying to scare some people, but nothing seems to be working, so he goes home and sucks on a blueberry, which makes him just as blue as his depression.
To help Bunnicula with his depression, Chester and Harold take him to see Rusty Bones for some help. Rusty tells Bunnicula that maybe he is depressed because he isn't as scary or terrifying anymore. When Chester and Harold start saying cute things about him, they only make things worse.
Bunnicula goes to the docks to be alone, where Rusty meets him and encourages Bunnicula to embrace both his cuteness and his scariness, because those are the traits that make him who he is, which makes Bunnicula feel much better.
Characters
Major Characters
Minor Characters
Caesar
Sphinx Sculptor
Bear (non-speak)
Objects
Locations
Trivia
In the credits ending, Rusty Bones is voiced by Patrick Seitz, even though he is voiced by Greg Eagles.
This marks the third time Bunnicula drained a fruit.
Cultural References
In his many attempts to play with Bunnicula and/or cheer him up, Harold dresses the blue bunny up like Darth Vader from Star Wars and shouts "You're not my father!" to indicate he's pretending to be Luke Skywalker from the same movie series.
Continuity
Gallery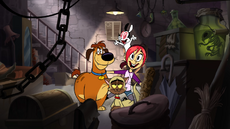 Click to view the gallery for Blueberry Blues.
References