Bunnicumoji is an fourteenth episode of the second season of Bunnicula and fifty-fourth episode of the full series overall.
Synopsis
Bunnicula must travel into the world of text messaging to save an embarrassing message that Mina sent to Scott.
Plot
TBA
Characters
Major Characters
Minor Characters
Objects
Locations
Trivia
After eating a Suger beet, Bunnicula begins to run like Classic Sonic.
This episode reveals that Chester doesn't care about Bunnicula causing trouble anymore, as he didn't try to stop him when eating the beets.
Cultural References
Continuity
While Bunnicula was going super fast, Chester remarks "Sugar-beets again? Are we running out of ideas?". This is no doubt leaning on the forth wall, as Bunnicula had eaten sugar-beets before during the episode "Walking fish".
While doing other amusing/helpful things while going super fast, Bunnicula's main activity with the sugar-beets is going to the market to shop for veggies without anyone seeing him. Considering what happened with the community garden in "Ghost Pepper", along with the fact that there is no sign of the bunnies that shown up in "Down The Rabbit Hole" after Bunnicula claimed carrots "just magically appear" at his house, there is no doubt he had been corrected since then (especially with what he wrongly got in trouble for in "Goat Story"), as he uses ancient coins to pay for his groceries.
Lucy the Cantaloupe makes another appearance since "The Invisible Yam".
Gallery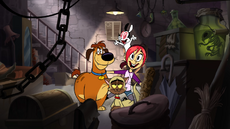 Click to view the gallery for Bunnicumoji.
References