Cassandra is a minor character of Bunnicula.
History
Prior to the series, Cassandra died of unknown causes. Cassandra is a ghostly Southern alligator.
Her spirit haunts the Orlock Apartments and searches for her earring. Her despair at not having it, infects all those with sadness to the point where Mina, Chester, and Harold cry. Eventually, her earring and Cassandra leaves in happiness while those she infected are returned to normal.[1]
She is seen at Orlock Apartments playing cards with Bunnicula and other monsters. However, when Agent 51 planned to steal Bunnicula to prove supernatural is real, Cassandra and the other monsters were going to scare Agent 51. They were instead put off by his crying about his lost pet and felt sorry for him, leaving without him noticing their presence at all. [2]
She is seen with other monsters (Lil Capone, Siobhan, Knight Owl, Rusty, Giant Cockroach, Hideous Thing, Bat Monster & Minotaur) need Bunnicula's help to stop Bunnicula's younger brother from stealing the powers of supernatural beings.[3]
Appearance
She is a green alligator ghost, transparent and with a pale green bottom.
Cassandra is able to shape shift, place a crying curse on people and animals, and travel through the sewer pipes. Her curse doesn't work on Bunnicula.
Personality
Cassandra is very emotional and gets upset when she loses her earrings or can't find her way home to the Bayou.
Gallery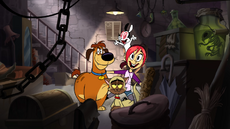 Click to view the gallery for Cassandra.
Episode Appearances
Trivia
References