Cassandra is a minor character of Bunnicula.
History
Prior to the series Cassandra died. Cassandra is a ghostly Southern alligator.
Appearance
She is a green alligator ghost, transparent and with a pale green bottom.
Cassandra is able to shape shift, place a crying curse on people and animals, and travel through the sewer pipes. Her curse doesn't work on Bunnicula.
Personality
Cassandra is very emotional and gets upset when she loses her earrings or can't find her way home to the Bayou.
Gallery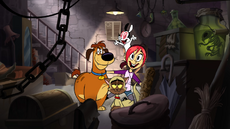 Click to view the gallery for Cassandra.
Episode Appearances
Trivia
References