Curse of the Weredude is an twelve episode of Season 1 of Bunnicula and twelve episode of the full series overall.
Synopsis
When Chester desires to be human so he can impress Mina, he gets more than he bargained for after Bunnicula introduces him to Patches, a cat who happens to also have a curse that makes him human.
Plot
Chester is wondering what it would be like to become a human because that way, he would be able to all his favorite things without having to hide them from the public and he could actually talk to Mina. Bunnicula then arrives with his friend, Patches, who is a weredude, an animal cursed to remain in the form of a human until the full moon. When Patches nips Chester, he transforms into a human being and Patches takes him on a night on the town. However, when Chester arrives home, Mina doesn't know it's really him, rendering him homeless. Bunnicula goes to Patches for the cure, but finds himself in a car chase with both Patches and Bunnicula from the police. Right before the sun rises, Patches undoes the curse and he and Chester are changed into cats. Unfortunetly, Chester is in trouble with Mina for stealing her dad's car. 
Characters
Major Characters
Minor Characters
Objects
Locations
Trivia
Cultural References
Continuity
Gallery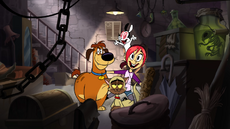 Click to view the gallery for Curse of the Weredude.
References