Down the Rabbit Hole is the eleventh episode of the second season of Bunnicula and fifty-first episode of the full series overall.
Synopsis
Bunnicula visits a farm and helps a family of rabbits learn to stand up for themselves when a horse steals their food.
Plot
One day, while eating carrots on a farm, Bunnicula oversleeps and decides to stay with a family of rabbits, who are living in fear from a horse who is stealing their carrots. Bunnicula decides to teach them how to be brave and stand up for themselves, by showing them the art of self defense. That very night, the rabbit family uses their training and Bunnicula's powers to scare off the horse, so they'll never have to be afraid of him again. Bunnicula then takes the rabbits (and many others) back home to feast on the delicious vegetables.
Characters
Major Characters
Minor Characters
Objects
Locations
Trivia
Cultural References
Continuity
Gallery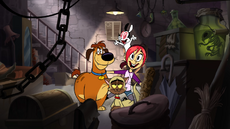 Click to view the gallery for Down the Rabbit Hole.
References