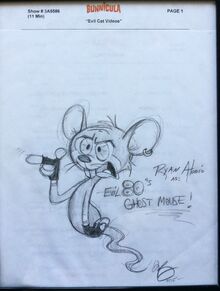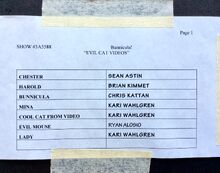 Evil Cat Videos is the tenth episode of Season 1 of Bunnicula and tenth episode of the full series overall.
Synopsis
After Chester has been possessed by an evil video cassette, which has been by the ghost of a mouse whose soul entered the tape. Now, Bunnicula must interrogate the ghost in order to find out what he's up to and figure out how to save Chester.
Plot
Bunnicula attempts to break Chester free of the control, as the mouse from earlier reveals himself to the pets. Confronting the mouse, Bunnicula demands answers as the ghost is forced to reveal his origins of once being a normal mouse in 80's that was chased by cats and being forced to hide in a VCR. It is revealed he was crushed to death when a human placed a tape in the VCR and his spirit was trapped inside for three decades. He reveals his goals of wanting vengeance for his untimely demise and plans to control all cats.
Bunnicula tries to remove the tape, as the mouse has Chester attack but is avoided. The mouse is mildly surprised to see Bunnicula's powers and ordered Chester to instead attack the sleeping Mina. Bunnicula soon helped a struggling Chester snap out of his brainwashing and the latter destroyed the VHS, thereby, freeing the mouse from his prison.
After he is freed, Chester is a bit dazed about his ordeal as his friends tend to him. The spirit of the mouse emerges from the tape, happy to finally be released from his prison after so long. Feeling bad for the trouble that he has caused the pets, he apologizes for his actions and bids them farewell as he moves on to the afterlife.
Characters
Major Characters
Minor Characters
Cool Cat
Lady in Flashback
Objects
Locations
Trivia
The Evil 80's Mouse is voiced by Ryan Alosio, the same actor who voices Deacon in the Fallout 4 Bethseda game and Shocker in Marvel's The Amazing Spider-Man 2 amongst others.
This episode was released on Boomerang Streaming Service on April 11, 2017.
This episode was released on Boomerang Channel on March 28, 2017.
Cultural References
Continuity
Gallery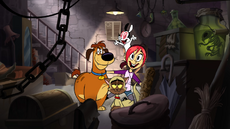 Click to view the gallery for Evil Cat Videos.
References