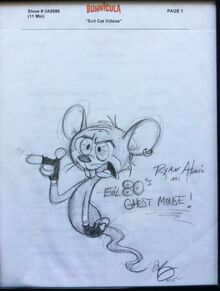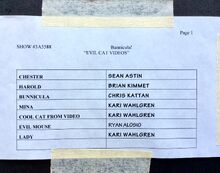 Evil Cat Videos is the tenth episode of Season 1 of Bunnicula and tenth episode of the full series overall.
Synopsis
After Chester has been possessed by an evil video cassette, which has been by the ghost of a mouse whose soul entered the tape. Now, Bunnicula must interrogate the ghost in order to find out what he's up to and figure out how to save Chester.
Plot
Bunnicula attempts to break Chester free of the control, as the mouse from earlier reveals himself to the pets. Confronting the mouse, Bunnicula demands answers as the ghost is forced to reveal his origins of once being a normal mouse in 80's that was chased by cats and being forced to hide in a VCR. It is revealed he was crushed to death when a human placed a tape in the VCR and his spirit was trapped inside for three decades. He reveals his goals of wanting vengeance for his untimely demise and plans to control all cats.
Bunnicula tries to remove the tape, as the mouse has Chester attack but is avoided. The mouse is mildly surprised to see Bunnicula's powers and ordered Chester to instead attack the sleeping Mina. Bunnicula tries to stop Chester but is knocked away and Chester stands over Mina. However, he struggles with carrying out the deed and the mouse's urging causes Chester to snap out of his brainwashing and yells at the mouse for his command. The mouse is surprised Chester broke free but stated he would continue haunting for all of time. Annoyed with him, Chester ejects and destroys the VHS while Bunnicula helps.
After Chester is done destroying the tape, the spirit of the mouse emerges from the tape, happy to finally be released from his prison after so long. Feeling bad for the trouble that he has caused the pets, he apologizes for his actions and bids them farewell as he moves on to the afterlife. Harold walks in with the monkey's paw in his mouth and talks about how it is a happy event.
Characters
Major Characters
Minor Characters
Objects
Locations
Trivia
Cultural References
Continuity
Gallery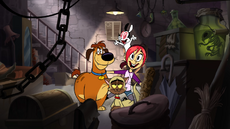 Click to view the gallery for Evil Cat Videos.
References