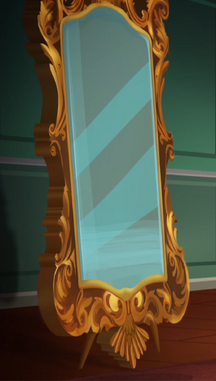 Hall Mirror is an object debuted in the episode, Muddy Harry. It once belonged to Dracula, who worked some magic into it that allowed someone to step into the looking glass and emerge exactly thirty minutes in the past.
History
Apparently, Dracula used it to have Bunnicula remind him to order pizza without garlic.
Harold entered it to look for Muddy Harry, accidentally creating several duplicates of himself which were actually his past selves. Chester and Bunnicula joined him, and decided to hide the duplicates in the basement. However, it was already full of duplicates who had apparently gone into the mirror countless times. Chester and Bunnicula got the duplicates they had created through the mirror, and then when Chester revealed Muddy Harry was just a duplicate of Harold covered in mud, the remaining duplicates attacked them. Bunnicula smashed the mirror, meaning Chester, Harold, and Bunnicula never went into the mirror enough to make all the duplicates. They were then erased from existence, and the duplicates who went into the mirror were trapped in between time.
Description
The mirror has an antiquated look and allows someone to step through it to go back exactly thirty minutes into the past, apparently without limit.
Trivia