Haunted Dog House is an eighteenth episode of Season 1 of Bunnicula and eighteenth episode of the full series overall.
Synopsis
The ghost of puppy traps the three heroes inside Harold's makeshift dog house.
Plot
Seemingly making it out, Chester looks around and sees the history of Lil Capone who was once the beloved puppy of a gangster, whose master never came back home from a meeting with his boss. Due to his master having promised that when he got back they would play, Lil Capone wanted to play as Chester understands his sadness before Capone turns into a ghost and faces him.
Scared, Chester runs away and finds Harold and Bunnicula telling them of what he has learned of the ghost puppy. Harold suggests they simply play with Lil Capone but Chester runs off in fear as the ghost sends toys after them. Bunnicula soon tickles the ghost pup and finally having his fun, Lil Capone was satisfied and thanks them. He tells them he might be able to move on to the afterlife though does make a vague remark, as Harold picks up on it.
As Capone moves on, this causes his doghouse to vanish with him but the pets escape in time to avoid disappearing as well.
Characters
Major Characters
Minor Characters
20's Gangster
20's Female Gangster
Nutty Pete
Objects
Locations
Trivia
Mina is revealed to have an uncle named Vlady.
This episode was released on Boomerang Streaming Service on June 15, 2017.
This episode was released on Boomerang Channel on May 30, 2017.
Cultural References
Continuity
Gallery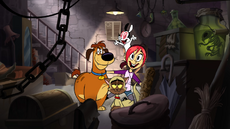 Click to view the gallery for Haunted Dog House.
References
Community content is available under
CC-BY-SA
unless otherwise noted.