Jurassicnicula is the twentieth episode of the second season of Bunnicula and sixtieth episode of the full series overall.
Synopsis
On a school field trip to the Natural History Museum, Bunnicula drains an ancient plant and his 'lizard brain' starts to take over.
Plot
Woken by a vision of Mina getting eaten by a dinosaur during her field trip, Bunnicula rushed himself, Cester, and Harold to the local museum of natural history, only for them to see it is really Mina and her friends horsing around with the robo t-rex, a mechanical wildlife simulator, before the Jimbo the tour guide (who is also the night guard and janitor) concludes the tour with an exhibit of plants that had been fossilized in amber. Just as the museum is closing, Bunnicula-- ever enamored with trying new things-- ignores Chester's warning about the plants being "past expiration date" and drills into one to drain it, thus he ends up shedding his skin and turning into a dinosaur!
Seeing that Bunnicula had lost his mind to prehistoric reptile instincts, Chester and Harold do their best to avoid Jimbo the night guard as well as their vampire friend, all while hoping to shake them both until the transformation wears off. Unfortunately, in the chase, they ended up in a room full of ember, and thus try several prehistoric species of plant hoping to turn Bunnicula into something more manageable. At first, they have no such luck, and ended up forced to battle the Robo T-Rex against Bunnicula's T-Rex form, but soon enough Chester finds one more ember containing a prehistoric species of carrot, which he uses to turn Bunnicula's dinosaur form into a species that is smaller and easier to catch. Have captured Bunnicula under a glass dome, Chester and Harold carry the little guy home where they are sure the effects would wear off without any more trouble... they did, however, leave a really big mess for Jimbo the janitor to clean up, but no farther evidence of what happened beyond that.
Characters
Major Characters
Minor Characters
Objects
Locations
Trivia
Cultural References
The way Harold and Chester disguise themselves as a caveman to avoid the night guard almost mirrors how Scooby Doo and Shaggy uses a similar trick to hide from the monsters when a case takes place in a museum.
The fact that ember is the cause of Bunnicula's rampaging dinosaur transformations seems to be a spoof of Jurassic Park.
Continuity
Gallery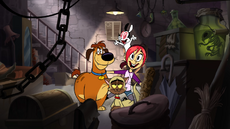 Click to view the gallery for Jurassicnicula.
References