Legend of the Lucky Locket is the sixteen episode of the second season of Bunnicula and fifty-sixth episode of the full series overall.
Synopsis
The pets find a magical locket that shows them the future, and they also learn that Mina will be in mortal danger when she becomes an adult. So, they decide to train her to be ready for any possible dangers to keep her safe.
Plot
Bunnicula tells a story of how he and his owner Lafitte found a magic locket that shows the future. Chester questions Bunnicula on the recent events, asking if he knew from all these events would come true and that he knew about him and Harold before even meeting them.
Chester calls the story of the locket fake, so Bunnicula decides to prove it. In the attic, Chester continues to be skeptical even after finding the locket. However, after a series of events, he now believes.
The pets see a future, where Mina is now a supernatural hunter and chased by a monster. They soon see her trip just like her present self. The pets resolve to train her, so to avoid that fate. Surely enough, their efforts succeed and the locket shows her more nimble but various other incidents where the monster catches her, due to her clumsiness. However, the pets rectify each event and future Mina overcomes the monster until his partner appears.
In the present, the pets worry over future Mina until her team appears. The pets are amazed to see it is their futuristic counterparts who now fight with Mina. Present Chester is relieved to see they were there for Mina. However, they are very excited when it turns out Future Mina can understand them.  
Characters
Main Characters
Minor Characters
Objects
Locations
Trivia
Cultural References
Continuity
Gallery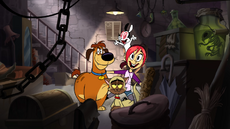 Click to view the gallery for Legend of the Lucky Locket.
References