Lugosi is a supporting character of the Bunnicula. He is a crazed Guinea pig who serves as Bunnicula's servent. He now lives with Marsha.
History
Lugosi has worshipped Bunnicula for quite some time and traveled across the globe in hopes of finding him and becoming his faithful, devoted servant. Since then, Lugosi has become an ally towards Bunnicula on his adventures.
Appearance
Lugosi is a brown and white Guinea pig who is cross eyed, and has green sclera.
Personality
Lugosi is worships the very ground that Bunnicula walks on, and will do anything to please his "master", and shuns anybody who isn't devoted or loyal towards Bunnicula.
Relationships
Bunnicula
Chester
Harold
Marsha
Gallery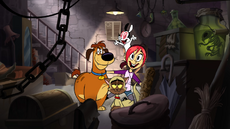 Click to view the gallery for Lugosi.
Episode Appearances
Trivia
In On Mina's Secret Service, he becomes Marsha's new pet, who starts calling him, "Rhonda" because she thinks he's a girl.
Lugosi's name comes from horror actor Bela Lugosi, famous for his iconic portrayal of Dracula. 
References