Mark of the Mandrake is the tenth episode of the second season of Bunnicula and fiftieth episode of the full series overall.
Sypnosis
Bunnicula eats a mystical mandrake root and grows to the size of a human.
Plot
Gremlins are tearing the building apart, and since humans can't see them, the pets must try to find a way to get rid of them. They go downstairs to Madame Polodouri's shop to see if she has anything that can help them. They find some sage and a big root, which Bunnicula eats, but doesn't seem to have any affect on him.
As soon as they go back upstairs, Bunnicula grows to the size of full-grown human. To keep the Monroe's from finding out, Chester and Harold disguise him as Mina's babysitter, Mr. Person. Naturally, the Monroe's easily fall for it and decide to have Bunnicula help them repair the building. Chester and Harold use the sage to ward off the gremlins, and Mina uses the new math skills "Mr. Person" taught her to help her father repair the elevator.
Characters
Main Characters
Minor Characters
Objects
Locations
Trivia
This episode was released on Boomerang Streaming Service on December 21, 2017.
This episode was aired on Boomerang Channel on November 21, 2017.
Postcard Pun: "The End"
Cultural References
Continuity
Gallery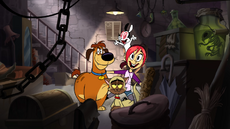 Click to view the gallery for Mark of the Mandrake.
References