My Imaginary Fiend (per title card) aka My Imaginary Friend (per TV guides) is the thirty-eighth episode of Season 1 of Bunnicula and thirty-eighth episode of the full series overall.
Synopsis
When Mina's imaginary friend, Hamburger Cheese returns to her life, Bunnicula is set on a collision course with a supernatural creature he's never had to face before; a figment of his imagination.
Plot
Mina is looking at a photo album of her old imaginary friend, Hamburger Cheese and wishes that he could come back. Hamburger Cheese comes back and starts playing pranks on Bunnicula, Chester, and Harold so he can have Mina all to himself. Bunnicula then decides to face off Hamburger Cheese using only the power of imagination. After a battle of thoughts and figments, Bunnicula wins, and Hamburger Cheese has no one left to entertain. Luckily, Bunnicula and Harold have decided to help him find someone else to love: the lonely and pathetic Arthur. 
Characters
Major Characters
Buzz lightyear
Ernie
Bert
Elmo
Grover
Minor Characters
Objects
Locations
Trivia
This episode is called "My Imaginary Fiend", but some TV guides call it "My Imaginary Friend". 
This episode was released on Boomerang Channel on November 8, 2017.
Cultural References
Continuity
This episode contradicts Adopt a Vampire, which states that Chester was adopted by Mina in the park. Whereas in this episode, she is said to have gotten him and Harold as birthday gifts.
Gallery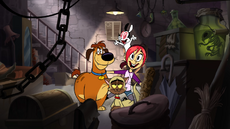 Click to view the gallery for My Imaginary Fiend.
References