Patches the Weredude is a supporting character of the Bunnicula.
History
Patches used to be a normal stray cat. One night, he was chasing a mouse and was shocked to find out that the mouse was really a weredude, which meant that he could change from a mouse into a human by the light of the full moon. The mouse named "Steve" then decided to pass the curse onto Patches, and he transformed into a human by the moonlight.
Steve then taught Patches how to act like a human and all the wonders of the human world. When Steve left to find something, Patches met Bunnicula and the two became fast friends. However, Steve came back and tried to destroy Bunnicula, because he claimed that there was an "ancient war" going on between werebeasts and vampire animals.
Patches was conflicted, so he decided to invite both Steve and Bunnicula for a little chat. When Patches asked why Steve hated Bunnicula so much, Steve replied it was because Bunnicula scared him in the park one time and it made Steve want to destroy all vampire animals. Luckily, Patches convinced the two to become friends and look at what they have in common, and the feud was over (or so Patches thought).[1]
Appearance
In his cat form, Patches has bushy orange fur with a mustache and yellow sclera.
In his human form, he is quite slovenly. Patches has the same color of his hair as his cat form's fur, is overweight and wears a white undershirt, blue gym shorts, with white, socks, and pink bunny slippers.
Personality
Patches is a very laid-back and fun loving cat. However, he sometimes forgets about the fact that he's a were-dude and not fully a cat anymore. He talks in a manner similar to a stereotypical Californian surfer. 
Relationships
Gallery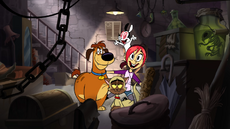 Click to view the gallery for Patches the Weredude.
Episode Appearances
Trivia
Patches is the first monster to appear more than once.
Patches has his own theme song, which he tries to play in each episode focusing on him.
His number room is 56.
In Revenge of the Return of the Curse of the Weredude, Patches officially moves into the Orlock.
In each of his appearances, Patches introduces himself to Bunnicula, Harold, and Chester as if he's meeting them for the first time ("Hi I'm Patches! I'm a weredude!")
References
Community content is available under
CC-BY-SA
unless otherwise noted.