Road Tripped is the twenty-third episode of Season 3 of Bunnicula and one hundred and third episode of the full series overall.
Synopsis
The pets take a road trip to a music festival in the underworld.
Plot
When Chester finds out that Patches is taking Harold and Bunnicula to a Jazz festival without him (as jazz is his favorite kind of music) the guys try to explain to him that the event was specifically arranged for monsters, and he really shouldn't come on account he tends to "freak out" around the supernatural, harshing the "mellow vibe" that the spirit of jazz is supposed to represent. Seeing how upset their cat friend is, however, they agree that he could come on one condition: that he promises not to freak out about the monsters. Chester makes that promise, but finds it increasingly difficult to keep his word throughout the trip, as Patches driving gets complicated without moonlight, a couple of strangers in the monster world (one of which turning out to be Glob Glob the swamp cabbage vendor) gave him some jump-scares, and the two monster girls the gang picked up-- Silk and Holly-- seemed to have some dangerous traits despite meaning no harm. Eventually, upon entering the underworld, Patches crashing the car into a rubber tree proves to be the last straw for Chester, but in the process of freaking out-- rather then run away or blame others like he usually does-- he ends up expressing his feelings and admits that he'd rather be freaked out then left alone because he cares deeply about his friends, and even made new friends out of Silk and Holly by saying kind things about them. Harold apologizes on the gang's behalf for not inviting Chester to begin with, noting that he always seems to know what to do in tight situations like the one they were in at the moment. Chester shrugs it off, saying he cannot help being the way he is, but indirectly proves that he is getting used to monsters by calmly predicting that Bunnicula was preparing to scare him again, much to the bunny's flattery. In the end, under Chester's leadership, the gang pulls their talents and skills together to create a new vehicle that got them all to the festival in time for the fun.
Characters
Major Characters
Minor Characters
Objects
Locations
Trivia
Cultural References
In the show, swamp cabbage (which Bunnicula eats to temporarily turn himself to slime for the fun of it while in the car) is a regular cabbage covered in slime, but real "swamp cabbage" is actually another name for cut up Heart of Palm from the sabal palmetto tree or cabbage-palm tree, which grown in the southern US and is used for Cajun cooking.
Continuity
Gallery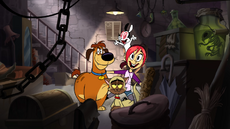 Click to view the gallery for Road Tripped.
References