Tony "Rusty" Bones is Blue Singer and Chester's favorite singer.
History
Rusty had a difficult life such as his wife leaving him at the altar, getting attacked by a bear, and falsely arrested. He then became a blues singer and released many albums about his struggle.
Appearance
When Rusty was human, he was black and had white hair and male pattern baldness. He wears a brimmed hat, a vest, and a dress-up shirt.
Personality
Rusty is a really depressed person, and loves singing about his awful life, and hates it when people make a mockery of his works. However, he did give Bunnicula some good pep talk about embracing both sides.
Relationships
Chester
Bunnicula
Harold
Bear
Mina Monroe
Gallery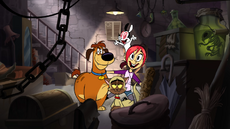 Click to view the gallery for Rusty Bones.
Episode Appearances
Trivia
References