Scott Free is the fifteen episode of the second season of Bunnicula and fifty-fifth episode of the full series overall.
Synopsis
Bunnicula accidentally erases Scott's memory after the latter finds out about Bunnicula's secret, but also becomes rather intelligent. Chester and Harold use this to take advantage of Scott and make him cater to their every whim, but this also makes Mina miss the old Scott.
Plot
Scott unintentionally caught sight of his powers and tried to warn Mina. However, Bunnicula hypnotized him but Harold interrupted, erasing Scott's memory. The pets are worried when Scott doesn't recall his name or anything. They are then surprised to find in this state, Scott could understand them. Chester sees that Scott could learn easier in this state of mind and used this chance to better Scott, while Harold took advantage of it. Bunnicula has reservations on this process but keeps it to himself.
Although Scott became more intelligent, the pets see Mina was upset at losing her goofball friend who no longer partook in her acts.
In the end, Bunnicula ultimately restored him for Mina's sake. Harold is disappointed at the fact that they will miss out on food, though Scott retains the ability to communicate with the pets and still knows Bunnicula's secret, something that surprised them. Scott promises to keep the secret safe and feeds Harold, who promptly forgets his worries.
Characters
Main Characters
Minor Characters
Objects
Locations
Trivia
This episode was released on Boomerang Streaming Service on December 21, 2017.
Scott officially finds out Bunnicula's secret and can communicate with the pets.
It is revealed that Harold love popcorn.
Cultural References
Continuity
Gallery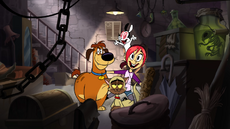 Click to view the gallery for Scott Free.
References