Sunday Bunnday (per title card) aka Sunn Day Bunn Day (per TV guides) is the twenty-fifth episode of Season 1 of Bunnicula and twenty-fifth episode of the full series overall.
Synopsis
After partying all night, Bunnicula must make it back home and avoid the sunlight or he'll turn to ash. Bunnicula tries various ways to block the sunlight such as mailing himself back to Mina, walking in a solar eclipse, and covering himself in clothes, but nothing works. Finally, Bunnicula makes it back home, but Harold accidentally lets the sun in and Bunnicula turns to ash. Chester and Harold try to fix him, but they fail. Bunnicula then sees a full moonbeam, which revives him.
Plot
Characters
Major Characters
Minor Characters
Objects
Locations
Trivia
This episode was released on Boomerang Streaming Service on June 15, 2017.
This episode was released on Boomerang Channel on May 30, 2017.
This episode is called "Sunday Bunnday", but some TV guides call it "Sunn Day Bunn Day".
This is second appearance of Patches. 
It is revealed that when the moonlight hits Bunnicula's ash, he can be revived.
It was shown that Harold was licking chocolate and he did not get sick.
Cultural References
When Patches lifts up Bunnicula to recharge him in the moonlight, it almost mirrors Rafiki lifting up baby Simba to present him to the the Pride Lands in "The Lion King".
Continuity
Gallery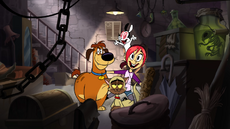 Click to view the gallery for Sunday Bunnday.
References