Uninvited is the fortieth and final episode of Season 1 of Bunnicula and fortieth episode of the full series overall.
Synopsis
When a garden gnome comes to life and sets its sights on eating Mina and her friends for dinner, Bunnicula tries to save them, but how can he get inside? He can't enter someone's house if he's not invited. 
Plot
Mina, Becky, and Marsha are having a sleepover at Becky's house. Becky has bought a new garden gnome, not knowing that it is really magic. Becky puts a hat on the gnome and it comes to life, set on eating the girls. When Bunnicula sets his eyes on this, he, Harold, and Chester race off to Becky's house to rescue her. Unfortunately, vampires cannot come into somebody's house unless they're invited. After several failed attempts, Bunnicula uses Harold's doghouse and manages to get inside to stop the gnome. They remove his hat, and the gnome is lifeless once again. Unfortunately, they wrecked Becky's house and ruined the sleepover. 
Characters
Major Characters
Minor Characters
Objects
Locations
Trivia
Cultural References
Continuity
Gallery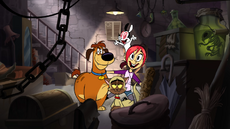 Click to view the gallery for Uninvited.
References
Community content is available under
CC-BY-SA
unless otherwise noted.