I'm Patches, I'm a weredude.
This page contains information on a subject that does not yet have an official name. Once an official name is given to the subject or character, this template can be removed.
They are ghost of dead fishes.
History
Appearance
Gallery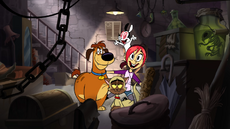 Click to view the gallery for Walking Fish (Characters).
Episode Appearances
Trivia
References